Our Practice
Verso Surgery centre is home to two of the most talented and busy plastic and facial cosmetic surgeons in Canada.
About Us
We're an elite team of specialized medical aesthetic practitioners, pleased to collaborate in a luxury cosmetic surgery and skin care clinic. We've experienced exciting growth and success over the years, and our expert staff covers a diverse range of advanced treatment options. As a leading cosmetic surgery clinic in Toronto, our mission is excellence, in the product quality and service we deliver, as well as the client experience every guest has with us. Our team consists of talented men and women who are passionate about the positive, restorative nature of the work they do. Together, they have fun changing lives each day.
What's in a name?
Verso means reverse, or opposite in Latin, and we believe it reflects our deepest intentions to provide next level health care which is dramatically different and better than what they've known. We cover a wide variety of treatment areas ranging from hearing to haircare because we think the patient experience in each field of medicine should be top notch. Whether cosmetic surgery, complexion and rejuvenation, hair transplantation, or scar revision, we want to 'reverse' any feelings of apprehension, so you leave with the utmost confidence in our facility. We deliver outstanding care and attention to each patient who passes through our doors because it matters to us that you feel great along with looking fantastic. Our impeccable practice protocols, honest communication, and reliable follow up care deliver the essence of who we are. Every step of the way, we hope you're pleased that you chose us- we are!
Why plan your treatment with Verso Surgery centre?
You're frustrated with pesky facial lines and unwanted signs of aging, you're a busy mom whose body hasn't quite bounced back after pregnancy, or perhaps you're a man watching inevitable hereditary hairline recession creep up, and you want a solution. Our patients are people just like you from all walks of life, and they need their concerns and goals to be met with compassion, realistic and effective solutions. We hear you- let us help!
Because our practice offers an impressively wide range of both surgical and non-surgical options, we have greater resources at hand to help find cosmetic solutions for virtually any issue. When you contact our office, we'll ask you some questions to help determine which of our trusted medical professionals can best meet your needs. Many of our clients see more than one member of the team to blend a combination of complementary procedures. The result is personalized, transformative care that leaves each person looking like the best version of themselves.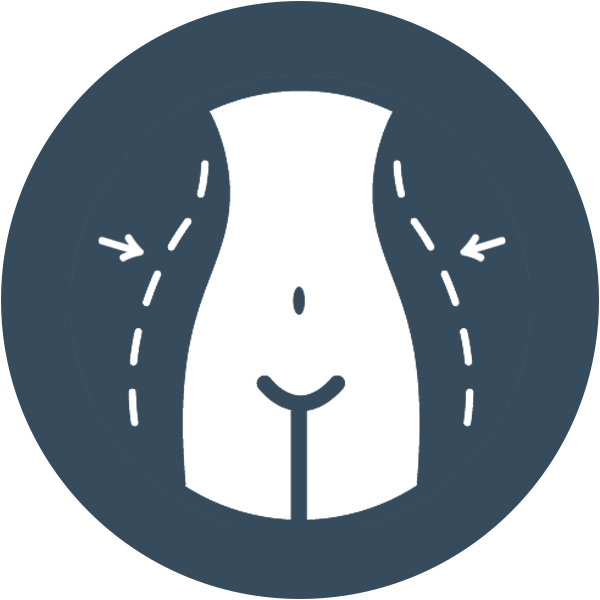 When you're considering options and interested in learning more, we welcome you to our cosmetic surgery clinic in Toronto. Let us help you reveal inner confidence and feel beautiful in your skin again.
Read on to learn more.
Body Sculpting Procedure Toronto
Why does Verso Surgery centre stand out among cosmetic surgery clinics in Toronto?
Sometimes taking the first step to inquire about cosmetic treatments can be a little daunting. Our doctors and nurses have a sincere desire to make each step of the self-improvement journey as comfortable, safe and positive-feeling as possible. Our patients appreciate the education we provide, the way we listen carefully and invite questions. Open communication in a warm environment can make a confusing or stressful situation much more pleasant.
You may have experienced strong sales tactics and disappointment with a cosmetic product or service before. There are remarkable body improvements, and complexion rejuvenation results possible through the use of today's many restorative procedures; however, we'll never oversell or overpromise what someone can achieve. The happiest clients are those who understand what is possible and enjoy seeing their features improved as expected. Each person who passes through our doors should feel connected and important to us. We're accessible, consistent with follow up care and deliver a level of service that outshines our competitors. Whether you see us for a quick treatment or total body reshaping, you'll love both the time you spend at Verso, and your result!
Our Toronto facility leads the way in cosmetic surgery clinic technology and safety
We take great pride in our very own, top of the line surgical centre. Verso Surgery centre is fully accredited and pleased to offer a new operating room, equipped with general anesthesia and all the strictest hospital grade safety protocols. Our patients appreciate a welcoming, luxurious environment with beautiful overnight accommodations and recovery centre. Typical hospitals may feel sterile, impersonal or intimidating. When you undergo your procedure with us at Verso, you'll have the reassurance that no detail is overlooked, and no corner cut, yet you'll feel relaxed in a boutique Toronto cosmetic surgery clinic with staff who make you feel at home.
All of our medical and surgical equipment is the most advanced available on the market. We've spared no expense to deliver high-end technology, and our surgeons utilize the industry's leading-edge methods of plastic surgery. We've designed our space with you in mind, and your positive experience is our priority.
A few of the reasons you'll enjoy working with us at Verso Surgery centre:
Our surgeons are in a league of their own. Both accredited by the Royal College of Physicians and Surgeons of Canada, they are each highly experienced and well-regarded in their fields. Dr. Kolenda is double board-certified and sought after as an inventor and pioneer of minimally invasive surgery. He keeps ahead of the curve in surgical innovation with improved pain management and prevention, minimizing trauma, scarring and other unwanted effects of surgery. His background makes him a meticulous and multi-talented expert. 
At Verso Surgery, patient safety is our top priority. Our nurses, anaesthesiologists, aestheticians and audiology experts are all leaders in their fields, well-trained and experienced, but what makes them a unique and incredible team is their passion and positivity about what they do. Each member of our medical staff brings their very best to make each person who walks through our doors feel like our most important patient.
Are you ready for your closeup?
Take the first step and get in touch with us. Find out what we can do to restore your youthful appearance & confidence.