Butt Lift
Do you like the way your bottom looks? Through ever-changing cosmetic trends, the buttocks remain a focal area for body improvements.
Butt Lift
Simply building up a curvy bottom with squats or boot camps don't always yield the desired results. Due to genetics, age, or significant weight loss, some of our patients find this area of their body is flattened and sagging due to excess skin, loss of muscle and fat. A butt lift in Toronto, (also called gluteoplasty) is a surgical procedure often requested by those who've worked hard to lose weight and now have body sagging to contend with. Here, we'll explain how the method works, who may be a good candidate and what they can expect from the result.
Why do patients request a perkier bottom?
As we get older, it's not uncommon to lose fat and muscle mass in areas where it used to be, such as the buttocks. To round out a flattened bottom, the incisions used to lift drooping tissue may be combined with a specially designed buttocks implant.
Poor skin elasticity can be the result of genetics or general health, but a major contributing factor for skin sagging is weight loss. When a person loses 40, 50, or even 100 pounds, especially over the age of 30, it can be challenging for tissues to bounce back. Massive weight loss patients will often see a plastic surgeon regarding body lift procedures after their weight loss has stabilized. They'll usually present with an overhang of skin in the abdominal area, as well as on the inner and outer thighs, and the buttocks.
At Verso Surgery Centre in Toronto, butt lift surgery may be requested in conjunction with a tummy tuck (abdominoplasty) or a combination of lower body lift procedures. Our body contouring experts are renowned for their experience and innovative approach. When you see a board-certified plastic surgeon who specializes in beautiful body sculpting techniques, you can trust you'll receive skilled and effective improvements that also look natural and harmonious.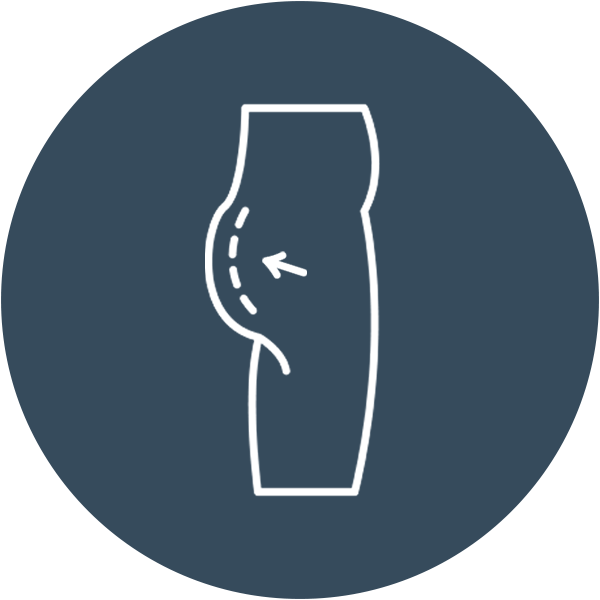 Whether dieting or adhering to a particular workout (buns of steel, anyone?) as a society, North Americans often look for ways to maintain a shapely, perky backside. Find out how a buttlift can help!
Gluteoplasty Toronto
Who makes a good candidate for buttocks lifting?
You may be interested in gluteoplasty, and might be a good candidate if you can relate to more than one of the following:
You've lost significant body fat and maintained a stable weight for at least 6 months.
You have an average body weight but underdeveloped, drooping buttocks.
You have poor skin elasticity, and the skin did not retract after liposuction
You are in good general health without any untreated medical conditions or other contraindications for surgery.
What will my consultation for butt lift surgery be like?
When you visit us at Verso Surgery Centre for the first time, you'll be welcomed to our state-of-the-art clinic by our caring and experienced team of medical professionals. Our surgical coordinator has worked alongside our plastic surgeons for ten years. She understands the procedures and process so well that she can guide you through your transformation journey and ease any worries you may have.
You'll meet with your plastic surgeon in person to talk about your aesthetic goals and concerns. They'll examine you and let you know what the most appropriate and effective options are. You'll be able to ask plenty of questions, and your surgeon will ask you questions too. These include medical and health details, plus ensuring you understand what's involved in the whole surgical process. Our top priority is patient safety.
Are you ready for your closeup?
Take the first step and get in touch with us. Find out what we can do to restore your youthful appearance & confidence.
Butt lift in Toronto
Remember- a butt lift alone won't add volume to the buttocks or change the quality of your skin. This procedure is designed to remove excess skin and lift the tissues. You can have a rejuvenated shape and improved contour for your buttocks, as well as thighs and tummy if you and your surgeon decide to incorporate these in your plan. This procedure isn't for everyone, and it does require a significant incision plus inevitable scar. You may be advised against this approach if the following apply to you:
You have a chronic condition affecting heart health, circulation or immunity
You plan to lose significant weight after the procedure
You don't have the excess skin or laxity in the buttocks region to warrant a lift surgery
Your BMI (body mass index) is higher than 30
Other lifestyle factors such as smoking can be a concern.
Understanding the procedure
Your plastic surgeon will meet with you during a private consultation and discuss your expectations as well as risk factors and possible outcomes. Everything you need to know to be in optimal shape and well-prepared for your treatment will be explained to you, and you can feel free to ask questions and ensure you understand the procedure.
At Verso, transparent, honest patient education is vital to us, and our clients. We want you to feel confident about what can and can't be achieved through any cosmetic surgery method you choose. Our plastic surgeons will never recommend unnecessary or inappropriate options for you. Selecting a body reshaping procedure like a butt lift in Toronto often changes the lives of our patients for the better. A physical feature that causes consistent embarrassment or self-consciousness can affect one's mood and body image daily. Though perfection isn't a realistic goal, aesthetics, confidence, and outlook on life are often altered for the better.
How can you prepare to be in excellent shape and ready for your procedure?
Many of our body and butt lift patients have steadily lost weight and worked out vigorously to achieve their goals. They are determined and persistent people, so they do very well with pre and post op requirements. To be fit and ready for your procedure, we'll recommend that you take care of any weight loss goals before surgery and maintain a stable weight for at least 6 months prior. One reason for this is that the skin can and does retract somewhat after weight loss.
As well, fluctuations in body fat could negatively affect your results, so you and your surgeon will want to work with stable tissue for a predictable outcome. We'll recommend that you arrange for help at home and with regular activities in the first 2 weeks after surgery. This is a great time to call in a favour, ask a family member, or even hire help if you're able to do so. You'll be up walking right after surgery, but certain activities will be restricted or feel uncomfortable, and it's a much less stressful way to recover when you have a hand at home.
How is a butt lift procedure done?
Patients are treated in our beautiful, new, private surgical centre. Verso is pleased to offer a level 3 OHP fully accredited facility equipped with the very best in medical technology and licenced staff. Because we manage our own surgical suite and all equipment required, our patients have greater selection and flexibility in OR bookings, as well as comfortable accommodations. You'll appreciate the privacy and luxury of undergoing a cosmetic procedure in the Verso Surgery Centre. You'll be completely asleep throughout the operation. A certified anesthesiologist works with our plastic surgeons to ensure safe and effective general anaesthetic.
Find out how a butt lift procedure works
The incision route used to lift the buttocks is placed along the lower back, horizontally. You'll be resting on your front throughout the procedure. The excess skin is removed below the incision line, and buttocks tissue pulled up before being secured in place using sutures. Your plastic surgeon may rearrange fat and tissue within the buttocks to preserve and utilize it for a sculpting effect. Skin is pulled taught for a toned, smooth-looking bottom. The entire process may take between 2-5 hours, depending on a patient's individual needs.
What to expect during recovery
After you undergo a butt lift in Toronto, you may have one or more drains placed temporarily. These are soft, flexible tubes designed to draw away any excess fluid from the area until inflammation resolves somewhat. The drain can be easily taken out in the office around day 5.
You'll be assisted to walk around once you're awake and feeling up to it. Our caring medical team will explain your incision dressing and how to care for your surgical site once home. You'll have a prescription for antibiotics and a strong pain medication to take as needed. Initially, the tissue will feel somewhat numb, and you may feel a tight sensation. Swelling peaks around day 2-3 and will slowly resolve over the first 14 days.
You'll likely be provided with a soft, stretchy compression garment to wear regularly for the first few weeks. Most patients like how it feels. It's beneficial to conform the skin in its desired shape, reduces swelling and helps prevent unwanted fluid accumulation.
Verso provides unparalleled care
Your plastic surgeon and an OR nurse will be accessible for you 24/7 immediately post-op, and we'll give you a direct phone number to use in case you have any questions or concerns after hours. We'll show you how to rest and position comfortably and what activities or actions to avoid for the first few weeks. Once your incision is well-healed, around 3-4 weeks post-procedure, you can begin applying scar gel or sheeting to help minimize the evidence of your procedure. We also offer cosmetic treatments to help reduce the appearance of scars at the Verso Surgery Centre.
What results can you expect after a butt lifting surgery?
Each person's results are unique to them and depend on their anatomy, their needs and their procedure details. Removing excess, sagging skin and some tissue will typically give the buttocks a lifted, smoother and more toned appearance.
The results are very long lasting, and the procedure carries a high satisfaction rate, but it's critical that patients avoid dramatic weight fluctuations as this can change tissue and your bottom's appearance. The risks inherent to any surgery are essential to understand. These include possible infection, poor wound healing or unwanted scarring. However, these risks are very low and mitigated with expert medical care, planning and adherence to post-op instructions.
Feel comfortable in your own skin once more!
Does your bottom, or any area of your body, sag and make you feel self-conscious? Body lifting procedures like a surgical butt lift are practically designed to remove the excess and let you feel comfortable in your skin again. Your wardrobe choices can change for the better, and many people find that they're not only more physically active after making these changes, but they feel more confident being physically intimate as well.
If you're bothered by a flattened or sagging bottom, we have real solutions, and permanent improvements are possible. We welcome you to talk to the plastic surgery experts at Verso Surgical Centre and learn about the next steps for you to live in a body your love.