Liposuction
Verso Surgery Centre offers men and women effective self-improvement tools with the expertise and guidance of an exceptional, passionate team. We know that making physical changes can be daunting and navigating a world of options isn't always easy.
What is liposuction surgery?
No matter how much they work out, eat well and work on their figure, many of our Toronto liposuction patients have persistent, tough-to-reduce fat deposits that will only respond to surgical removal. This procedure essentially sucks the fat out through a small tube. It is minimally invasive- requiring only tiny incisions- yet it is classified as a surgical procedure so there are qualifying factors and some limits to what it can achieve.
Though not useful as a weight loss tool, the nature of your body fat allows liposuction to spot-reduce it meticulously in the hands of a skilled plastic surgeon. Patients who are within roughly 30% of their weight loss goal will get the most satisfaction from this intervention with incredible results. While exercise and calorie reduction are ideal to target intra-abdominal, or, visceral fat, areas like love handles and thighs often need a little help, and this treatment is the go-to.
Body shaping surgery is performed under general anaesthetic which means patients are comfortably asleep throughout. The blunt- tip cannula (tube) used to extract fat can do so without damaging nearby muscles and nerves. Through very small incisions, dramatic changes are achieved. Depending on your number of target areas and extent of work, recovery can be relatively quick. A desirable option to slim and smooth one's figure, it carries high patient satisfaction rates. Incisions can usually be placed in discrete locations such as creases where they are naturally hidden. Once healed, these small marks are virtually invisible. At Verso Surgery, we offer topical and laser treatments that help minimize the look of scars- just ask!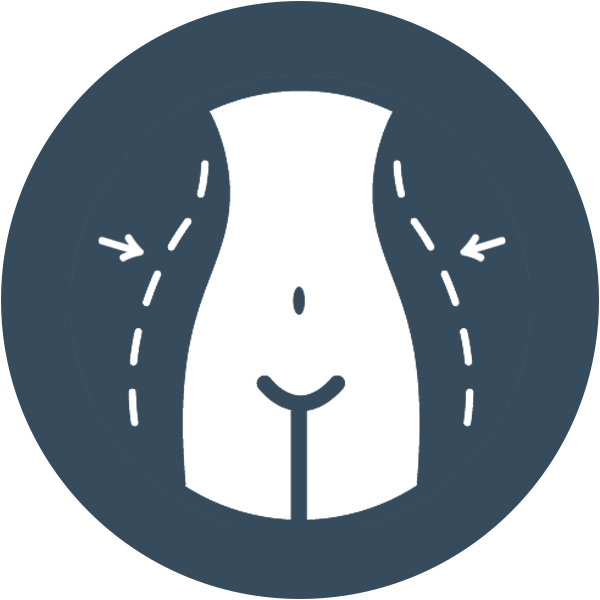 We believe in setting realistic expectations and celebrating all the exciting, transformative steps you take. In Toronto, liposuction is a top requested body sculpting procedure. Through one of the most minimally invasive surgical procedures available, we can help you redefine and re-sculpt your body. Stubborn fat pockets and contour irregularities are permanently eliminated for a smooth, new you. learn more.
Body Sculpting Procedure Toronto
Toronto liposuction options – What is this procedure ideal for?
This incredibly versatile cosmetic procedure can be customized entirely, and that's why patients love it for achieving a variety of goals. It can be added to other surgical treatments such as tummy tucks or body lifting and may even performed on delicate, detailed areas like the arms, neck and face. For instance, eliminating unwanted lower face or chin fat is commonly requested, and the back or the arms, "bra roll" or lower legs can benefit from precision sculpting. Breast reduction procedures are beautifully customized with this effective tool because breasts typically contain significant fat tissue.
Those who want more muscle definition have often worked hard to strengthen their body, yet a layer of fat that won't budge hides their hard-won results. With the excess gone, the skin can conform to the underlying structures and show greater definition and a "cut" physique.
One of the most attractive aspects of liposuction is that results are permanent and fat cells removed do not return. While it is possible to gain weight and add new fat cells, the improvements achieved persist, and body contour improvements lead to long-term changes that inspire patients to stay in shape and maintain healthy body fat ratios.
What is liposuction surgery not ideal for?
Unfortunately, there isn't a cosmetic procedure that can remove significant, overall body fat or intra-abdominal fat. That is the thick, sticky variety which surrounds internal organs and can lead to health problems. It's desirable to reduce this as much as possible to feel healthy and look your best, but such improvement requires nutritional changes and increased physical activity for most people. If you wish to change your health picture, reduce excess weight and get in shape- congratulations! You're taking the next step through research and planning. Many people benefit from seeing a nutritionist or primary care physician to get on track before considering cosmetic procedures like liposuction. Our experts will let you know if you're a good candidate or if you need to take some action first.
Skin quality is a factor for great liposuction results. If significant loose, sagging skin is present, then this option alone may not achieve ideal outcomes. Your skin is resilient and elastic- it often bounces back after weight loss- but it varies between people, and sometimes there is just too much laxity or stretch marks affecting the tone and resiliency of skin. The surgical cannula removes fat, but there may be more issues at play creating the appearance you're unhappy with. Your surgeon will assess you carefully during your consultation and listen to your goals. They want you to love your results, so they'll tell you what's attainable, and fat removal may be combined with surgical skin-tightening or laser components for best results.
What is the liposuction consultation experience like at Verso Surgery Centre in Toronto?
When you arrive at Verso, our friendly staff will welcome you before you meet privately with your plastic surgeon and surgical consultant. We're enthusiastic and incredibly experienced in providing personalized, focused and compassionate care to each of our patients.
Your surgeon will examine areas of concern and talk with you about the changes you'd like to make. We pride ourselves on honesty and providing detailed procedure information so that our patients are confident they understand the whole process and expected recovery. They should also have realistic expectations about what can be achieved and what the limitations are. Each person is beautifully unique and their needs, recommended surgical plan and outcome will be personalized for them. We'll never over-sell or upsell you on services either. Our practitioners are wholeheartedly committed to providing excellent and appropriate options- nothing unnecessary, nothing less.
Next, you'll be offered a recommendation and available dates for booking your procedure. One of the benefits our private state-of-the-art surgical centre lends us is that we have great flexibility for booking, accommodating a variety of schedules and needs. We offer luxurious overnight accommodations if needed and a warm, welcoming environment that is also fully accredited as a level 3 OHP surgical centre. That means we meet and exceed safety standards and protocols for conducting surgery under general anaesthetic with fully licenced and experienced medical staff.
After the consultation, you'll be provided with a surgical quote, and we'll tell you about medical financing or private care options if these will be helpful for you. Let us know what you need and feel free to ask questions. Your consultation is just the beginning of preparation and building confidence about your liposuction in Toronto.
What should I expect from recovery?
After the procedure is completed, patients are gently awakened in our comfortable recovery area with a nurse at their side. Their surgeon will speak with them and offer any necessary reminders or instructions; then they'll be able to head home when cleared and feeling ready. An adult must accompany patients to ensure safe transit and help if needed while the effects of anaesthetic wear off. Most people feel awake, well and clear within a couple of hours but taking it easy for the first 24 hours is recommended.
There are many impressive medical advancements which have made atraumatic, rapid recovery body sculpting work possible. However, swelling and bruising are expected post-treatment due to the disruptive nature of the suction and fat removal. You may have a few stitches in place and a compression garment over the treatment area similar to "Spanx" or a tensor bandage. This helps keep excess swelling down and assist with smoothing contours while you heal. You'll be advised about how long to wear the garment.
Because everyone experiences discomfort uniquely, some will feel sore for a few days and take pain medication to help keep comfortable; others find they don't require more than careful treatment and rest. Prescriptions for antibiotics and an analgesic are provided for each patient. It's essential for us that we make you as comfortable with your experience and healing process as possible.
Prepare for a great recovery experience
Your healing time will be affected by how extensive your procedure was, so keep that in mind when planning time off work and help around the home. Be generous with yourself- this is a great time to ask for help with childcare, household tasks and extra time away from the daily grind. You will be advised to avoid aerobic workouts for roughly three weeks and to stay away from swimming, baths or hot tubs as this type of exposure for your incisions increases infection risk. Most patients return to work after one week, but certain strenuous or vigorous activity will have to wait until your plastic surgeon clears you.
The body will naturally hold on to a little persistent swelling for months after the procedure. Though the majority of swelling or bruising resolves in 14 days, prepare to be patient with the last residual puffy areas as it may take many months to see your final, fantastic results after liposuction in Toronto. We'll see you the first week after surgery and again around two months post-procedure. We often have patients back for a checkup in 6 months and at one year for final post-op "after" photos. Of course, If you'd like to see or speak with your surgeon at any unscheduled time, we welcome you to reach out, and we'll be happy to accommodate. In fact, directly after surgery, we provide all of our patients with a personal contact number for an OR nurse, just in case they have any after hour concerns. We are unique because we offer 24/7 care as we believe your entire experience, from the very first call to the last appointment, is integral to your satisfaction, and ours.
At Verso Surgery Centre, we don't underestimate the positive changes that reaching body goals can bring. When clothes fit better, and body confidence is improved, people often feel motivated to increase fitness, make better food choices and improve thinking about their health in general. Sometimes seemingly small, "problem areas" cause real emotional stress and social avoidance. Cosmetic surgery doesn't deliver perfection, but it can be a great catalyst and powerful improvement. If you'd like to talk, please contact us at Verso Surgery Centre. It's a great time to plan for a better beach season.
We look forward to hearing from you.
Are you ready for your closeup?
Take the first step and get in touch with us. Find out what we can do to restore your youthful appearance & confidence.