Tummy Tuck
When asked which area of their body they'd like to improve, many people- both male and female- state that their midsection leaves them feeling a little self-conscious. In Toronto, tummy tuck surgery is the cosmetic procedure which dramatically and permanently transforms the abdomen.
Introduction
People are wonderfully unique, and their reasons for seeking body sculpting procedures vary. They may have lost significant weight and now live with an excess of skin that didn't bounce back sufficiently. They may have a protruding belly due to diastasis recti- a condition involving permanent spreading apart of the vertical abdominal muscles. Plenty of mothers experience some degree of muscle separation because the extreme strain a pregnancy places on those tissues makes it hard for them to retract back fully. For individuals like these, no matter how much they work out and watch what they eat, their belly bulges, and waistline remains wider than they'd like.
A full abdominoplasty will completely reconstruct the belly button, and for many post-partum women, this is a welcome repair. People often report better posture, reduced back pain and state that clothes fit them better after their midsection reshaping.
Tummy Tucks are for the guys too. Plenty of men expend significant effort to get in shape and find they have stubborn abdominal fat pockets and sagging skin no matter what they do. While it's not designed as a weight loss procedure, abdominoplasty is often an effective way to finally complete the work patients started on their own.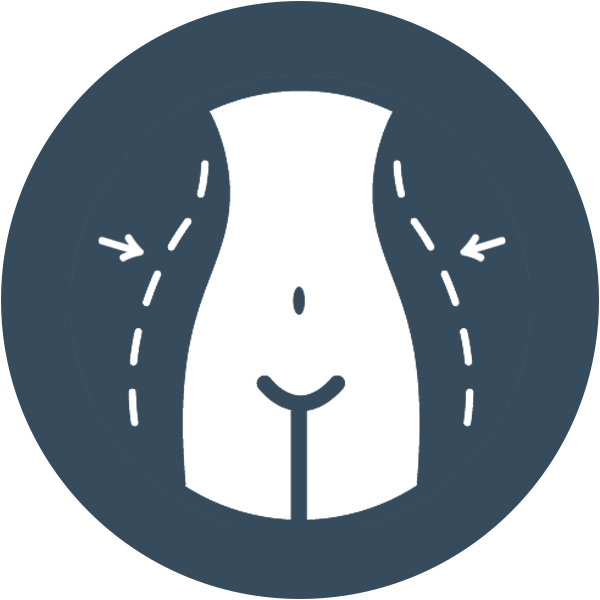 Patients of all ages undergo this treatment to slim and sculpt the waistline, remove excess skin and even draw the abdominal muscles closer together- eliminating a bulge. Known medically as an abdominoplasty, there are a few different varieties available to achieve our client's desired results.learn more.
Reshaping bodies with a Tummy Tuck
What is a mini tummy tuck?
The mini tummy tuck is an option which, true to its name, offers many of the same benefits of a standard abdominoplasty, on a smaller scale. Rather than address skin, muscles and fat over the entire abdomen, the mini focuses on just the tissue below the navel. A relatively high number of clients who are in good overall shape have a small amount of problem skin or fat in the lower abdomen that bothers them. If muscle separation is present only below the umbilicus, it can be repaired using this technique.
The full tummy tuck tightens skin above and below the belly button, repairs the entire vertical length of muscles and reconstructs the umbilicus.
Conversely, the mini version will only remove a small ellipse of lower abdominal skin, and will not address skin laxity, fat or muscle separation above the belly button.
Benefits for the mini version of abdominoplasty:
Shorter scar
Quicker surgery- usually 2 hours
Faster recovery
Removal and reconstruction of a C-section scar
Lower costs
Limitations of the mini:
This method is convenient for a particular group of individuals but those who have skin laxity above the belly button, separated abdominal muscles and ample lax skin will not achieve aesthetically pleasing results with anything less than a standard tummy tuck in most cases. It's important to be well informed and feel comfortable sharing concerns with your plastic surgeon. At Verso Surgery Centre, we think it's critical to success for patients to receive answers to all their questions, have a real, honest presentation of what the surgery can achieve and what its limits are. As a matter of principle, we never upsell or oversell what a particular treatment can accomplish. There is no such thing as perfection in plastic surgery, but dramatic, life-changing improvements? Yes. Definitely.
Who makes a great candidate for a tummy tuck in Toronto?
Patients must be in good, general health before considering elective, cosmetic surgery. The inherent surgical risks are significantly reduced when working with a board-certified plastic surgeon, fully licenced staff and an accredited surgical centre. There are still health and safety considerations, however, and your surgeon will have a detailed discussion with you to ensure that you don't have medical conditions or problems with healing that would affect your safety or results.
If you have any of the following frustrations with your abdomen, the tummy tuck procedure may be what you're looking for:
You've dieted and exercised, but you still see persistent flab
You aren't planning to become pregnant again * you will be able to carry a healthy pregnancy after tummy tuck surgery, but it is advised against due to the likelihood of reversing aesthetic results
You have sagging or hanging abdominal skin after pregnancy or weight loss
You do not smoke or use nicotine products
You have a body mass of less than 30 and a stable weight
You have diastasis rectus- causing the abdominal contents to protrude and form a pot belly or pouch
You have problem fat pockets on the abdomen or love handles
A full abdominoplasty procedure is fairly intensive as far as cosmetic operations go. Patients will ultimately be far more confident and pleased with their process if they understand the reality of recovery timelines, including time away from work. Typically, 2-3 weeks is advised for recovery at home and depending on your physical requirements on the job; you may need modification to your responsibilities for a little longer.
Caring for small children and pets can also be tricky post-procedure, so planning for help at home and with childcare is a real necessity when preparing for a tummy tuck.
Though scars are undesirable for most people, the incision and resulting scar from a tummy tuck is unavoidable. The key is choosing a skilled and experienced plastic surgeon who creates incisions so carefully that they are well-hidden in the boundaries of underwear or swimwear, and eventually fade to become completely inconspicuous. We offer topical treatments and scar laser therapies at Verso to help you minimize the texture and pigmentation of any scar. In the long run, we'll advise you to protect the incision from the sun as tanning can cause permanent darkening.
Those who are prepared for the required recovery time and have healthy expectations about what can be achieved, are often extremely satisfied with their results. You can obtain a smooth, flatter tummy, reshaped belly button and reduction in excess fat all through this one, comprehensive figure- transformer.
Your Toronto tummy tuck consultation experience
When you come to see us at Verso Surgery Centre, you'll meet with your plastic surgeon and an experienced, compassionate surgical consultant who understands our process inside and out, to guide you.
You'll have the opportunity to explain your goals and concerns, and we'll take the time to listen to you, then customize recommendations. Your surgeon will examine you and explain in detail which approach will likely help you see the results you want. Often, supplementary liposuction is added to the abdominoplasty to assist with sculpting and smoothing contours. You'll learn about the benefits of various options before choosing how to proceed.
We'll provide you with a detailed surgical quote, and we'll also get you in touch with private financing services and those who offer at-home care if desired. We're pleased to operate out of our own, state-of-the-art surgical centre with level 3 OHP accreditation, which means not only is our safety and standard of care unparalleled, but we can offer extremely flexible schedule availability for procedure booking.
We'll meet with you again pre-operatively to ensure you have all the instructions you need, and questions answered.
What will your tummy tuck recovery be like?
Your procedure will be completed under general anaesthetic and last between 3-4 hours on average. When you awake in our comfortable recovery suite, you'll rest a while until you're ready to leave with a friend or family member, or you may choose to stay in our luxurious overnight accommodations. Your plastic surgeon will talk with you and examine you directly after the operation, and we'll have you back to the office within one week for incision care, removal of sutures or management of any drains which may be present. You'll be provided with the personal contact number for a registered OR nurse to call in case of any concerns after hours, and we always welcome you to reach out between appointments if you have a question or would like to be seen earlier. At Verso Surgery Centre, we're please to offer 24/7 care, not matched anywhere else.
You'll have a few restrictions to keep in mind as you rest and recover at home. While you can shower a couple of days after surgery, we do advise against sitting in a bath due to the increased infection risk. Also, swimming pools, hot tubs and any other full water submersion won't be permitted until you're completely healed.
Though you're encouraged to walk around regularly right away after your procedure, you'll have to refrain from aerobic exercise for at least three weeks and heavy lifting for roughly 6 weeks. Patients walk slightly bent at the waist for 3-5 days after their tummy tuck and gradually straighten out. Your surgeon will advise you about specific activities that are safe or to be avoided. Though the first week can be a little uncomfortable and you'll need to sleep with your knees and head a bit elevated, the time passes quickly, and you'll be back to your active self in no time, with a new, revitalized figure.
Most inflammation is resolved in the first 2-3 weeks, but some persistent residual swelling may keep you feeling puffy until 5-6 months post procedure. We'll have you back at two months and again at 6 to mark your progress; then when one year has passed, you'll be ready for your post-op photoshoot!
This is truly one of the most dramatic changes a person can undergo to improve their figure and how they feel about their body. People who've avoided the beach or appearing in their underwear for many years can often have a new lease on life, and personal confidence when the skin and contours they're so self-conscious about are smoothed away. If you're considering a tummy tuck in Toronto, we'd love to help you take the next steps toward exciting changes. Contact Verso Surgery Centre today and let us arrange a personal consultation for you to meet with our experts and learn about the possibilities.
We look forward to hearing from you
Are you ready for your closeup?
Take the first step and get in touch with us. Find out what we can do to restore your youthful appearance & confidence.